By: Heather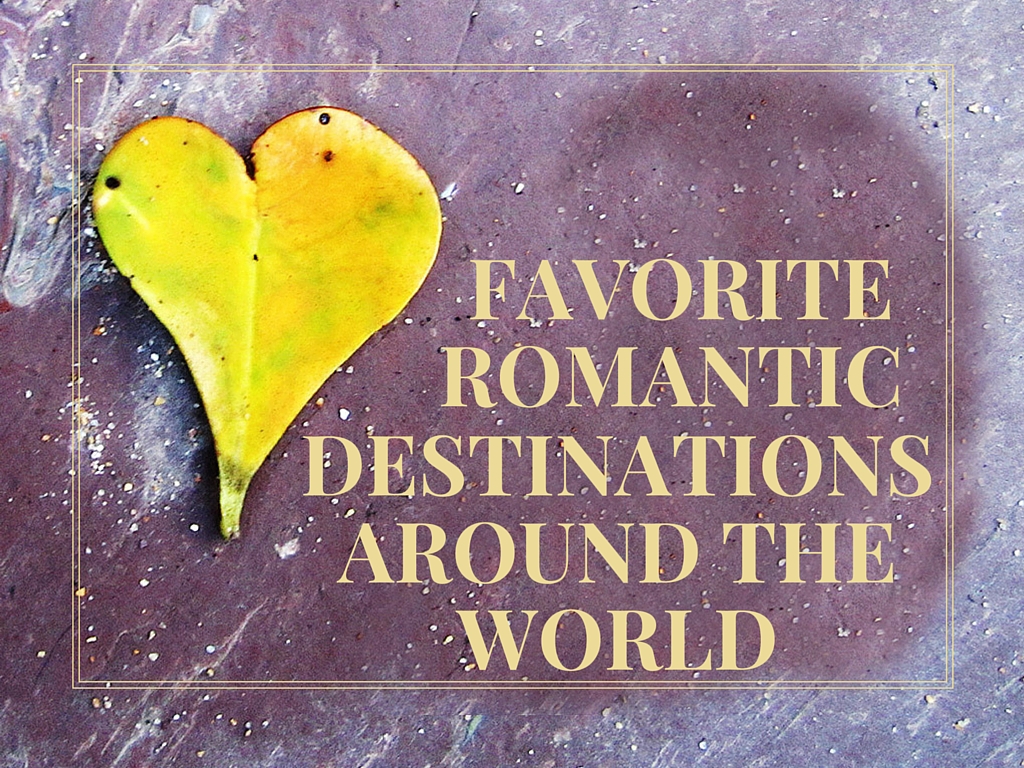 We have entered the month of LOVE. I am a huge fan of February because Valentine's Day is my favorite holiday. I know, I know all you neigh sayers are rolling your eyes at me right now, but hear me out. I am not talking about the commercialized have to feed and gift your lover V-day. I am talking about the reminder that love is love. We all need it, we all crave it and we all want to share in the feeling of reciprocated love.
For Matt and I, Valentine's Day is extra special – we met on 14 February 2011. We have always been more into collecting memories than collecting things. Instead of stressing yourself out buying overpriced flowers and gifts, invest in traveling to a place where you will create memories no amount of money could ever buy.
Sound good? 10 travel bloggers help me, help you find the most romantic destination for you and your loved one no matter what time of year.
A park whose name I cannot pronounce, a stormy ocean, and a small cabin with a fireplace make up my favorite romantic place. Storms River Mouth Rest Camp is located inside the Tsitsikamma National Park just off South Africa's magnificent Garden Route. Imagine crisp fall fresh air and thundering waves slamming into jagged protruding rocks along a thin stretch of coastline. Now imagine, an adorable cabin with your own private deck view of one of nature's best shows. If that wasn't enough, take a trek east and you will cross a suspension bridge over the Storms River, strikeout west to find the world famous Otter Trail headed towards a mighty waterfall. Either way, this stretch of coast is the most dramatic I have ever come across and drifting asleep a few yards away from the ocean symphony next to the one you love will leave an endless smile on your face.
Jen & Dave from Long Haul Trekkers
Rhodope Mountains, Bulgaria
As bicycle travelers, we typically spend our nights outside and can't think of a more romantic place to sleep than that of a million-star hotel. We're talking about camping under the stars. Perhaps the most romantic night of our journey included a long day of climbing the Rhodope Mountains in Bulgaria. The fall weather was crisp, yet still plenty warm. We pedaled to the base of a ski lift that had not yet opened for the season. Our spot sat in the woods, near a lake overlooking the beautiful mountains. Fall guarantees few travelers, good weather, and a clear night to gaze at the Milky Way above.
Jules and I have been to some pretty spectacular locations around the world, but one of our favorite romantic spots is Apo Island in the Philippines. While the island doesn't have the typical silky sand found in other areas of the country, they have something even better- sea turtles! The turtle population around Apo was once devastated by over-fishing, but the population was revived when the locals created a protected marine sanctuary just off the shore. We were able to swim up close with dozens of sea turtles. It was one of our all-time favorite travel experiences, and we felt so lucky to be able to share that with each other. Although not particularly romantic, we also had an (almost) near-death experience on the tiny, overloaded boat we took back to the mainland. Surviving the monstrous waves and getting back to shore made us all the more grateful to have each other for support.
Sarah & Kris from Jetsetting Fools
Rovinj, Croatia
We can't think of a more romantic place in the world than Rovinj, Croatia. Perched on a peninsula in the Adriatic Sea, the distinct Croatian charm is entwined with an Italian flare. Pedestrian-only, twisting cobblestone streets invite couples to stroll hand-in-hand between the pastel-painted buildings and beneath laundry strung overhead. Several cafes and family-run restaurants offer outdoor seating and traditional fare. In the interior, a cozy atmosphere is offered and along the coast are sweeping sea views. The region is known for its small production vineyards and there are several spots around town to sip on a glass of locally produced wine. The rocky shore is surrounded by translucent water and whether dining al fresco, watching the sunset or soaking up the sun, we could seek out the secluded nooks to feel as if we were the only ones there. We avoided the crush of crowds that arrive in the height of the summer and visited instead in the early autumn when it was warm enough during the day to swim and refreshingly cool in the evenings. Although, we imagine that Rovinj is romantic in all seasons.
We visited last fall when the weather is perfect in Jalisco. The experience begins walking across a remote sandy beach south of Puerto Vallarta then hopping a 30-minte boat to this sea cliff hotel (no paved roads to Yelapa). The rooms are exquisitely designed but don't have walls, creating endless views to the ocean and jungle. Then to push the romance over the top, we did their spa's Starlight Aromatherapy Bath. It was unlike any couples spa treatment we have ever experienced on our around the world honeymoon! The hostess showed us into the outdoor spa on the cliffs and 100s of candles were shimmering around the steaming bath, massage tables, and flower-covered bed. Then she said, "It's yours for the night, Enjoy!" Unbelievable. Giving each other massages, soaking in the fragrant tub, sipping tea, and counting shooting stars (we saw 14!)—literally took our breath away.
People naturally think of sandy beaches, hot tubs and overwater villas when they think romance but Devil's Thumb Ranch in Colorado is a winter wonderland, designed to spirit you away from the ski slopes into heavenly romance and relaxation. Nestled on a secluded plain surrounded by glistening mountains, drifts of snow wrap the ranch in a brilliant white cocoon. Within, the gleaming waxed wood smells fresh as a newly dressed Christmas tree and oversized sofas invite you to sink into them with a cold beer. If you can tear yourself away from the rocking chair on the porch, the freestanding bath in your room, the super-comfy beds and crackling embers of your fireside seating area, there's heaps to do with an all-weather outdoor pool and hot tub, a cosy spa and panoramic yoga room with spectacular views of the surrounding mountains. It's truly sublime!
For us Langkawi in Malaysia is the perfect romantic getaway! The island has 5-star resorts, boutique hotels and views to die for. In the middle of the Andaman Sea, the water is crystal clear, the rock formations and the green forest make the island a true paradise on earth. The island is very preserved, and you can choose your room between overwater bungalows, chalet in the middle of the jungle or surrounded by rice fields. Apart from the nature and landscape, what we love in Langkawi is the amount of activities you can do on the island. Snorkeling, parasailing, cable car, jet ski tour around the island and many more. For us, that even a romantic getaway needs to be packed with adrenaline and sports, the island is perfect. To keep the love vibe you can go on sunset dinner cruise, a relaxing Spa treatment or sail to a private and untouched beach!
Rob & Chris from 2 Travel Dads
Glacier National Park, Montana, USA
Our most romantic destination we return to is the Rocky Mountains, specifically Glacier National Park in Montana.  This was the first vacation Chris and I ever took together (Awwwwww, how sweet).  It's true.  The romance comes from bygone memories from when we were so young, and now it's our favorite family destination.  The romantic aspect of the land comes from the sweeping valleys, jagged mountains, changing clouds and solitude. With kids, the solitude is in the four of us being away from the world, but it's still romantic to remember being here when we were young…and kid-free.
Laura & Nick from Savoured Journeys
Bora Bora, French Polynesia
The most romantic destination we've ever been to was Bora Bora. I'd say it was because we traveled there on our honeymoon, so we were in a romantic state of mind, but Bora Bora's romantic appeal goes well beyond the norm. The perfectly clear water, the incredibly private overwater bungalows, the dreamy blue skies and wistful palm trees swaying overhead — it's a perfect destination year round.
Sabine & Sean from The Travelling Chilli
Victoria Falls, Zimbabwe
Waterfalls in general have a magical appearance, which makes admiring them a highly romantic experience. The Victoria Falls are the most romantic falls we have ever seen. The best romantic experience in the area is in the Victoria Falls hotel, which was built in 1904 and still today exudes its authentic colonial charm. Surrounded by mango trees, you can enjoy a gourmet meal, a gin & tonic or a true English high tea while admiring the dramatic scenery of the gorge, the 100 year old bridge connecting Zambia and Zimbabwe and the fog the Victoria Falls generate. With a tropical climate, Victoria Falls is perfect to visit all year round. However, the spray of the falls is at its best between April and June. We love The Vic Falls Hotel because it's a peaceful and romantic haven in an otherwise hustling and bustling town where adrenaline activities are king. The beautiful colonial setting of the hotel brings out the most romantic soul in anyone.
Cathy & Kev from For Two, Please
El Nido, Philippines
Recently, we went to El Nido in the Philippines for our honeymoon and I must say it is the ultimate destination for couples! The beautiful serene islands are a relaxing getaway from the buzzing city life. The unspoiled beaches, rich marine life, secluded location make it ideal for a romantic break. It is a paradise for water sports, including paddle boarding, snorkeling, kayaking and scuba-diving, as well as adrenaline sports like rock-climbing. Off-peak season (October~April) is the best time to visit to avoid the crowd and the sweltering summer heat.
Mine (Heather from Travelationship)
A good beach or a place with a breathtaking view
I love a good beach, a cozy cabin or a bird's eye view at sunset. I have visited a lot of beautiful places, but I don't think I have found my favorite romantic getaway – yet. There are a lot I have loved such as Siquijor Island, Philippines; Virgin Gordo, British Virgin Islands; Jeffreys Bay & Tsitsikamma National Park, South Africa; Maine, USA coastline in Autumn or camping in any fantastic forest. I will just have to test out the above recommendations and keep on traveling to find my favorite romantic destination.
Do you have a favorite Romantic Destination? Tell us about it in the comments!
See More Photos on Flickr and Please look for us on Facebook, Twitter, and Instagram!