By: Heather
George Town, Malaysia is a quaint little town located on the island of Penang in the Malacca Straight on the West side of Malaysia. The cities of Melaka and George Town were listed as UNESCO World Heritage Sites in 2008 for their multicultural heritage and architectural wonders. In recent years, George Town has become synonymous with incredible street art and delicious food. Home to some of the most famous murals in all the world Penang should be a top placeholder on any art lovers must visit list.
Upon arriving at your hotel, hostel, Airbnb or BnB ask your host for a map. We were given three different maps, and all were quite helpful, but we loved the Historic City of George Town World Heritage Site Map and the Tourism Penang's Street Art Map.
Between those two maps, we were able to locate all the street art, welded iron caricatures and places of interests within the city. We also asked our host to mark any new mural locations on our map. He was able to give us one extra but suggested we ask some restaurant and café employees for more.
For the most part, we didn't have any issues communicating in George Town. The area is very much focused on tourists, so it was quite easy to find English speakers to help out anytime we weren't able to get by with our very limited Malay.
We spent three days on Penang and only saw George Town. The street art and strolling the streets had us so engrossed; we ran out of time to travel inland to see more of the island. We didn't even make it to any of the beaches. It seems like such a travel fail, but I have to say it was ok because we enjoyed taking our time in George Town.
Things to Know Before Arriving
How to Get There
We took the train from Kuala Lumpur's Central Railway Station to the Butterworth Railway Station. The train ride is comfortable and takes about 4-4.5 hours. The Sultan Abdul Halim Ferry Terminal is located next to the Butterworth Station. Exit the rail station turn left and follow the covered walkway to the ferry. The signs are fairly easy to follow, but if in doubt follow the mass of people walking toward the port.
The ferry from the mainland to Penang runs every 20-30 minutes and takes 15-20 minutes to cross the water. Bench seating is available or feel free to stand on the sides and enjoy the view. Snacks and drinks are available for purchase on the ferry. One set of restrooms is available at the bow or front section of the boat.
How to Get Around
Buses are available to all towns located on Penang and are located at the bus terminal next to the ferry terminal.
There is also a free George Town bus, which departs from Terminal B and runs the older part of George Town. We did not see or find this bus during our time in Penang. I recommend checking with the bus terminal office for more information and to obtain a current bus schedule.
Taxis are also available outside the ferry/bus terminal. Know where your accommodations are before arriving. George Town is a very walkable place, but the heat can be a bitch especially when hauling luggage around. With that said, negotiate all taxi prices before getting into a cab or insist the driver use his meter.
Walking is the easiest, cheapest and best way to get around George Town. By walking, we were able to see more of the town's charm and find alleys and streets full of interesting buildings and characters.
Bicycles are available for rentals, but we opted out of cycling because some of the streets are quite uneven. We also weren't interested in trying to find safe places to park and lock the bike as we visited different places.
Motorbikes are available for rental, and although we did not rent a bike, I would highly recommend renting one for at least a day and getting out of George Town to see more of the island. We are big on renting an MB and touring the outskirts and surrounding areas. Looking back, we regret not getting out of George Town to see more of the island.
While in George Town, Penang
What to Do
I know we raved about the maps, but at least for a few hours or more tuck the maps in your bag and just wander. The streets of George Town are full of so much character and little details. It's fascinating & fun to roam around and take it all in.
What to See
Street Art and Murals
As we mentioned, we were in George Town for the street art. Artists from all around the world have painted masterpieces on walls all around Penang. The streets of George Town and beyond contain some of the most famous pieces in the world. Penang residents learned early on their murals were not only beautiful but a huge draw to bring people to their island. The local population and government have put in a lot of effort and time to keep their art pieces protected and in great shape.
Temples & Religious Sites
Within George Town are several temples, mausoleums, mosques, cathedral's, churches and religious sites and structures.
We visited quite a few different religious locations, and some were more impressive than others. We also found some to be closed to visitors for various reasons.
Our favorites included St. George's Church, which is the oldest Anglican church in Southeast Asia; Goddess of Mercy Temple, which is dedicated to Kuan Yin; She Tek Tong Cheah Kongsi, which features classic Chinese architecture with a flair of British influence; Mahamariamman Temple, which is the oldest Hindu temple in George Town; Kapitan Keling Mosque, which is the largest mosque in the city; and Hainan Temple, which is dedicated to the goddess Mar Chor.
Architecture
George Town is full of beautiful properties. There are several Association buildings worth walking by for the outside views along with seeing the city hall and town hall buildings.
We particularly liked the Cheong Fatt Tze Mansion & the Pinang Peranakan Mansion tours.
Museums & Other Sights
We visited four museums while in George Town and would recommend two. For anyone, the Penang State Museum we found interesting and full of lots of random things to read and look at. If you are an Instagram or Camera fanatic and have the extra RM20 for the entrance fee, then we would recommend the Camera Museum.
Clan Jetties
The jetties are a must do while in George Town. Originally built to house the early fishing families the piers serve as a reminder of the unique beginnings and continued heritage of the island. Families still live on the jetties, and some have combined their home fronts to serve as craft shops, food stalls, or stores to serve tourists.
*Note most of the street art previously located on the jetties has been painted over.
Where to Eat
George Town is a foodie lover's paradise. Their street food and ahhmazing restaurants are slated to be some of the best in Malaysia. Sadly, we are not big foodies and aren't able to offer a lot of advice on where and what to eat. I will tell you we enjoyed our burgers at Junk Café; our coffee and pastries at Mugshot Café & Rainforest Bakery; and noodles, chicken skewers and fried rolls at a handful of different street stalls.
We recommend doing a Google search for the best locations. There are lots of blog posts online directing you to great eats.
Things to Note
The heat was intense, and we found we had to take several breaks throughout the day to cool off. George Town is full of charming cafes and restaurants, so finding a reprieve from the sun was not an issue. I do recommend to always carry water with you because that heat can sneak up on you as you wander the streets.
Although the conservative dress is not required in or around Penang, please consider covering shoulders and knees when visiting religious sites. By carrying a wrap/shawl, it's very easy to cover up for a short time during your walk through.
What to Bring
Besides the obvious SE Asia, warm weather attire, consider bringing the below.
Cash – ATMs are available but if you can get extra cash from the mainland, bring it.
Sunscreen/Bug Spray – It's an island, so things are more expensive than usual.
Hat – The sun is intense.
Umbrella – Again, the sun is intense.
Travelasics
Web sites: Travel Penang Malaysia or Tourism Penang
Money: Credit cards were accepted at most permanent businesses. Cash only at all street vendors and smaller businesses.
Price: Train from Kuala Lumpur to Butterworth is $4-17, depending on your class of ticket. The Ferry from Butterworth to Penang is RM 1.40 for an adult and RM 0.60 for a child.
Tipping: Not required, but if you would like to tip 10% is standard. Most locations add a 10% service charge into the bill.
Travelationship Rating
4 out of 5 Travelationship High Fives. For the traveler who likes – adventure, romance, relaxation, partier, historical, UNESCO, bucket lister, street art, culture, heritage
If you liked it, Pin it!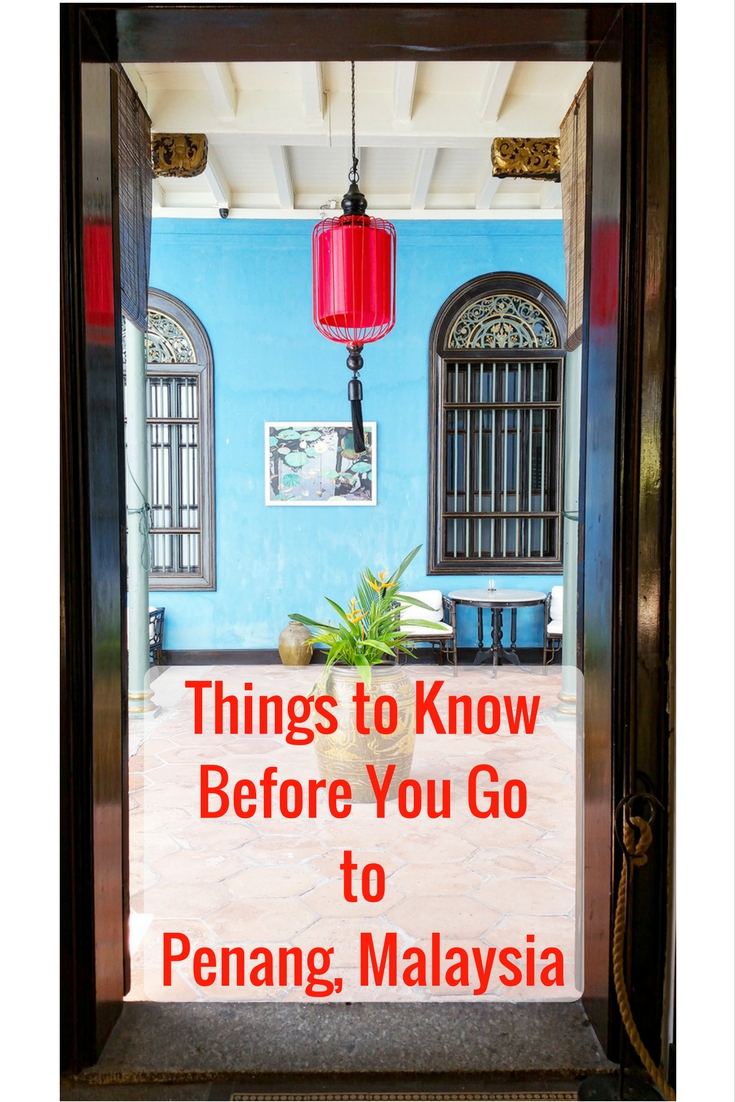 See More Photos on Flickr and Please look for us on Facebook, Twitter, and Instagram!